Good Morning
Further to your recent letter, I am aware you have not had a response as yet. Your case is being discussed at senior level and a response will be forthcoming next week.
Thank you for your patience in this matter
Kind Regards,

Richard Lawrence
National Customer Relations Manager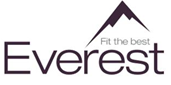 Address: Everest House, Sopers Road, Cuffley, EN6 4SG
Direct Dial:01707 877 022
Mobile: 07808365158
Fax: 01707 876 156
Email: richard.lawrence@xxxxxxxxxxxxx
Website: www.everest.co.uk
This message contains confidential information and is intended only for the individual named. If you are not the named addressee you should not disseminate, distribute or copy this e-mail. Please notify the sender immediately by e-mail if you have received this e-mail by mistake and delete this e-mail from your system. If you are not the intended recipient you are notified that disclosing, copying, distributing or taking any action in reliance on the contents of this information is strictly prohibited.