Mr Meacher,
I have explained to you that the windows are what has been agreed on survey. I have even suggested that we could fit these and if any designs are wrong I would change them for you. You have refused point blank to accept them without even seeing the windows. I even suggested that you visit me here at the centre to look at these windows, that offer was rejected by you.
The above offer still stands and the offer of another surveyor to visit and clarify your concerns. I hope that you will not refuse these offers.
There is no justification in reducing your outstanding balance.
Regards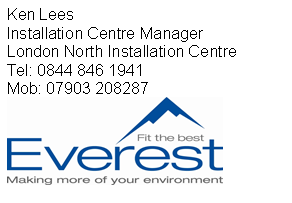 From: Sean Meacher [mailto:sean@xxxxxxxxxxx]
Sent: 03 July 2014 14:32
To: Ken Lees
Cc: Yvonne Mansfield; Nick Flanagan
Subject: Re: ES1910AR
If you read back through the correspondence, you'd read that I asked you to cancel this as of around 7th March.
I had also sent you images of what was wrong - the bottom 1/4 of the original design was cut off for the smaller windows.
They are not the same.
I had also sent you scale drawings of all the affected designs as to what I had been expecting.

I would only accept anything from Everest if:
a) You can get them correct.
b) Halve the total cost (at least) due to the amount of stress and inconvenience as the whole debacle and non-communication for several months has set back my plans back almost a year.

Regards,
Sean Meacher
On Thu, 3 Jul 2014 12:52:04 +0000, Ken Lees <Ken.Lees@xxxxxxxxxxxxx> wrote:
Dear Mr Meacher,

Your windows are have been stored in our warehouse waiting for you to agree to an installation date. I know that you have disputed the lead designs in the windows. I am prepared to send another surveyor to clarify your specific design. I have looked at your windows and I cannot see any difference to what you have requested.

I await your response.

Regards